As wedding photographers, roughly only about 25% of our working hours are spent out "in the field" taking photos! The much larger chunk of time is spent at home connecting with our current clients, editing photos, managing our social media, meeting with new clients over Zoom, and lots of other things! With this in mind it's sooooo important for us to have a workspace that works for us! We thought it'd be great and helpful to share our top 5 home office essentials that make it a really pleasant time to sit at a desk for hours on end without it getting too lame! For the sake of this post we'll focus on Zac's desk!
Apple Mac Mini ($1300)
I LOVE this computer. As far as the whole Apple ecosystem goes, things can get pretty expensive for relatively low power. That's exactly why you need this computer! You can max out the internal specs of a mac mini for a price way lower than their entry level MacBook Air! Dollar for dollar you're getting wayyy more performance out of a mac mini. And! You can pair it with whatever you monitor, keyboard, and mouse you prefer! Since I already had a nice monitor from an old Windows setup, the overall cost for me to get this insanely powerful and little computer was about $1500 (after buying a Magic Mouse and Magic Keyboard – also from Apple). Sure, the drawback is that you're tethered to your desk. But I'm not the kind of person who's wanting to swap up my working location very often! I'm content to day after day come to my desk and work on it. Maybe once a month will I even think about grabbing my laptop to go work on the couch. And even more rarely do I actually do it.
This Desk Organizer / Wireless Phone Charger ($30)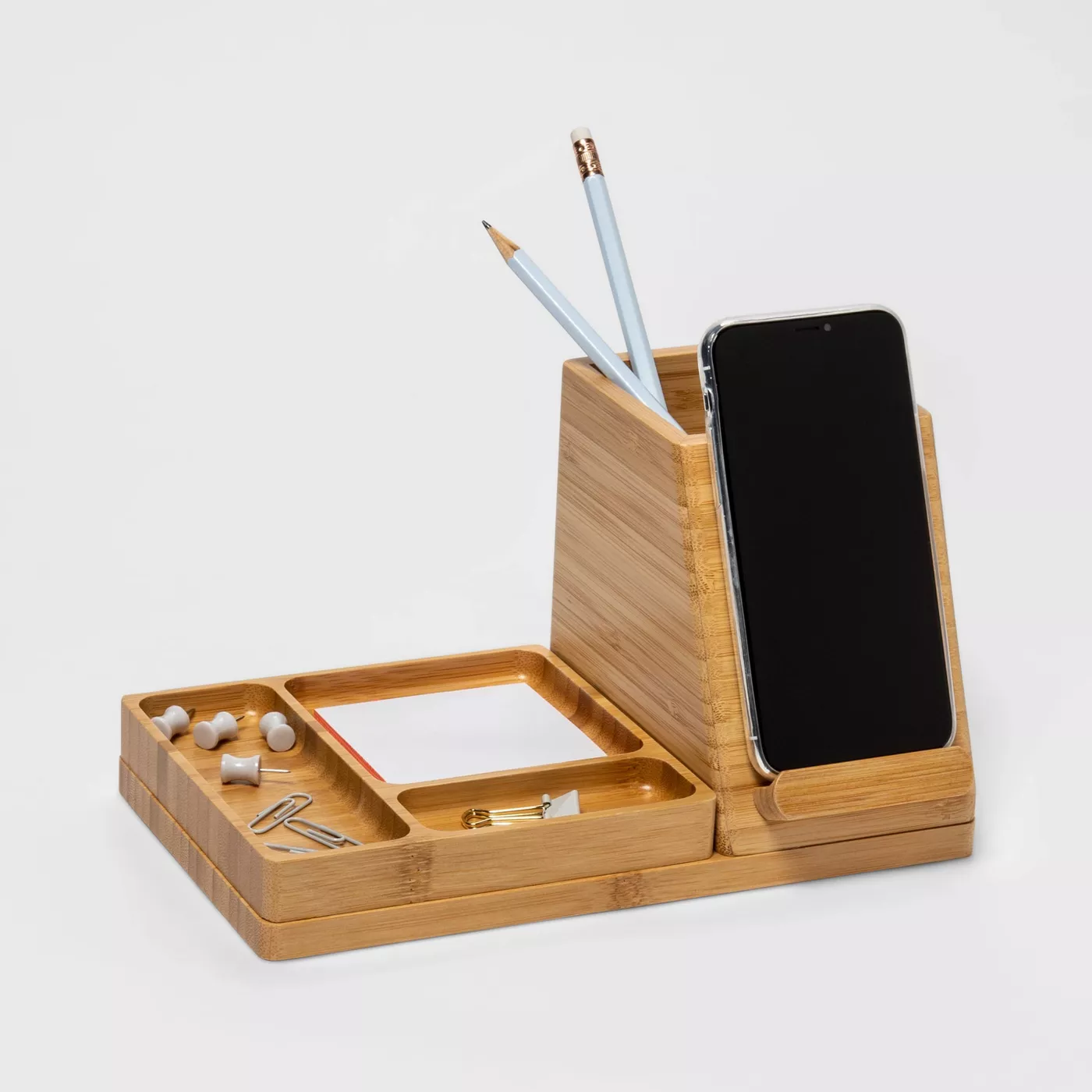 This desk organizer and phone charger has been a life saver!! I used to have little things like SD cards, pens, post-it notes, dry erase markers, all out on my desk! I'd kinda push them all together to give the impression of tidiness, but in reality they were all just clutter. I was doubtful when I saw this organizer that it'd actually make a big difference to how my desk felt but after buying it I'm so glad I went for it. My phone stays at 100% basically all day. All the little things mentioned above now have a home. And the surface of my desk is way more free of loose small things! A huge win for such a low cost. Also! Bonus on this is that there's two USB plugs in the back (for power only – not data transfer). This is super convenient for me since I have some video lights and a little neon lightning bolt that are powered off of USB! I threw a hub into one of the spots and now I can power everything I need from this one little organizer!
This Candle from DW Home ($18)
Okay… You're just going to have to trust me on this one. It smells like old books. Like an old rich man's study/whiskey drinking spot. I love this candle so much! We definitely lucked out though since Madison found ours at TJMAXX for like $12 – AND it's the 26.7oz one.. so bigger than either of the ones on the website for less. But still – I'd buy it again even for less good of a value!
Airpods Pro ($250)
I feel like a ton of people already have these and know that they're awesome, but I still gotta include them!! Not only are these epic for when I'm working at my desk, but they're just amazing to have on your person all the time. The different modes (mainly Transparency and Noise Cancellation) are just too fire. People talking around you but you gotta listen to something on your computer/phone? Boom. Noise Cancellation. Wanting to listen to some quiet background music while you work but want someone around you to be able to get your attention easily? Boom. Transparency. The ease of use with these things is just incredible – it's like they're dying to connect to my phone or computer really quickly so they can start serving me some sounds! The only drawback is if you use them fairly regularly eventually you'll find yourself having to charge them before you can use them (if you didn't charge them ahead of time), which can be annoying. But even then it only takes like 10 minutes to get a couple hours of use out of them! Which isn't too bad!
This 30″x20″ Whiteboard from Target ($19)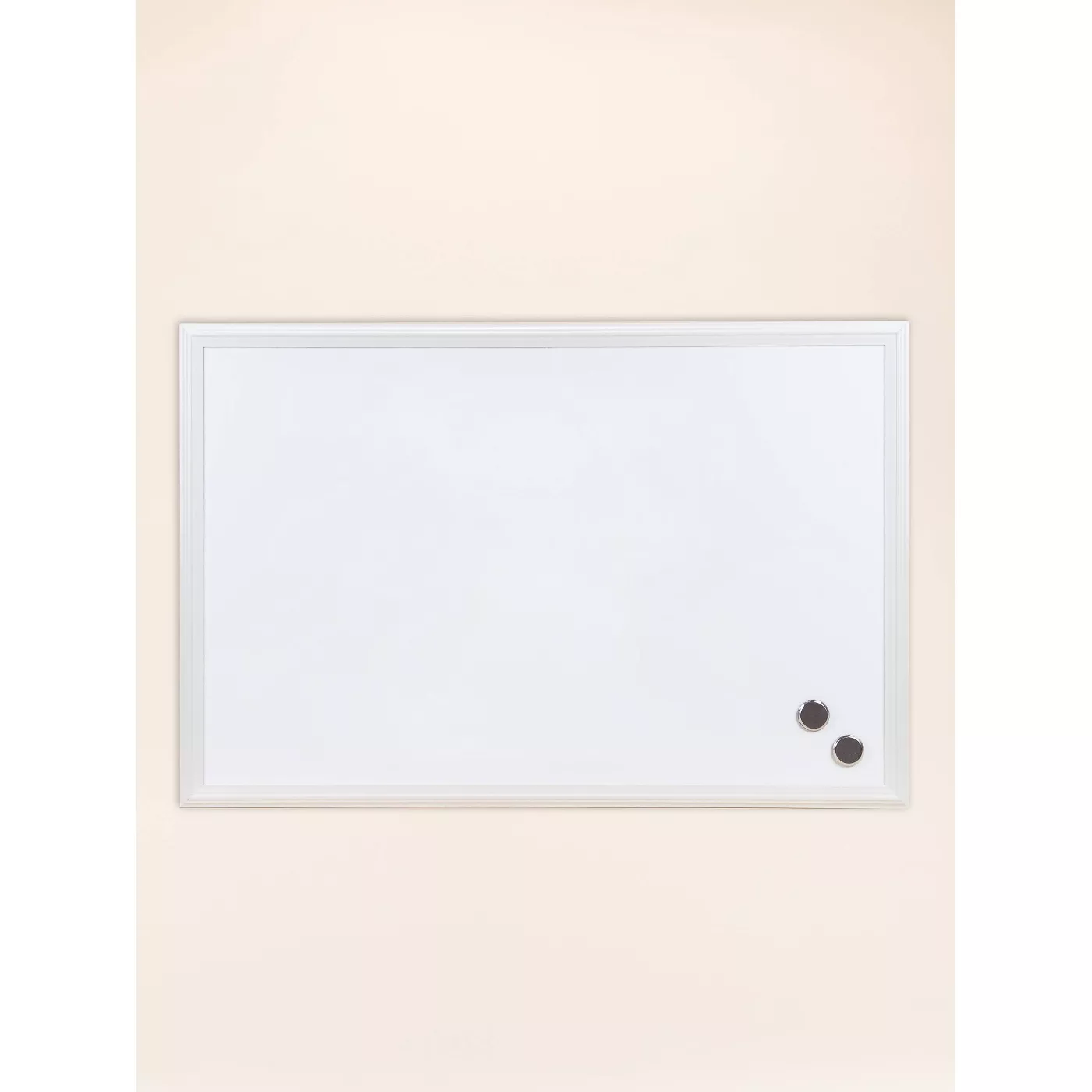 You know whiteboards! I'm a sucker for them. I basically keep my whole life on this white board. Business and personal to-dos, notes to myself, thought dumps, and my daily timeblock. This works way better for me than a notebook and it's so satisfying to get to erase finished to-dos! This one is just the right size (IMO) to take off the wall, hold in your lap and write all you need to, and then put back up on the wall!
BONUS! This Logitech Webcam ($90)
Boom! A bonus number 6!! This webcam is really great. After doing a lot of Zoom calls with potential clients and some of our out of state couples, I realized the little webcam built into my old macbook was just absolutely awful! I want to be able to provide a high-quality experience in everything we do, so I decided to upgrade this setup! (you can check out my TikTok about it here – https://vm.tiktok.com/ZMdCL9R4Q/) This webcam seems to do a really great job, especially when paired with the little video lights we got off of Amazon! The only drawback in my mind is the FoV angle is a little wider than I might like – but the only reason that's an issue is because our office isn't always picked up, so I don't want people to see the mess to the left and the right! haha.
WRAPUP
I hope this was helpful or interesting!!! There's a couple other items that are absolutely integral to our work as wedding photographers that I might touch on another time!
Comment down below if you have any home office items you can't live without!